Final Project: Mixr Pad
Project
:
Mixr Pad
Purpose of the Project:
As stated in the essay written before, I wanted to create an interactive project where an individual with no background of music can create a short strip of music by themselves. Even with the limited knowledge of music, or even with people who have a certain background knowledge, I wanted to make this project accessible for different types of audience. I specifically worked with the layering aspect of the project, where many artists use different types of sounds that may or may not a tune to layer on top of each other, matching the beat, tone and the chords to produce a certain melody to be used in music. I experimented a lot with GarageBand, my using free copyrighted sounds online and make my own music by layering them on top of each other.
These were the sounds I used from LooperMan:
Male Choral by rasputin1963
Bad Idea Strings by bigsnook954
No Confrontation Drums by MusEquencyFrequency
Beat Box Loop 83bpm by wavtech88
Rhodes Lofi – They Used To by miazyo
Drum 83 by sushilbawa
Inspiration
:
There were many inspirations that I took to produce this project. They are Launchpad, Loop Machine and an online game called Incredibox.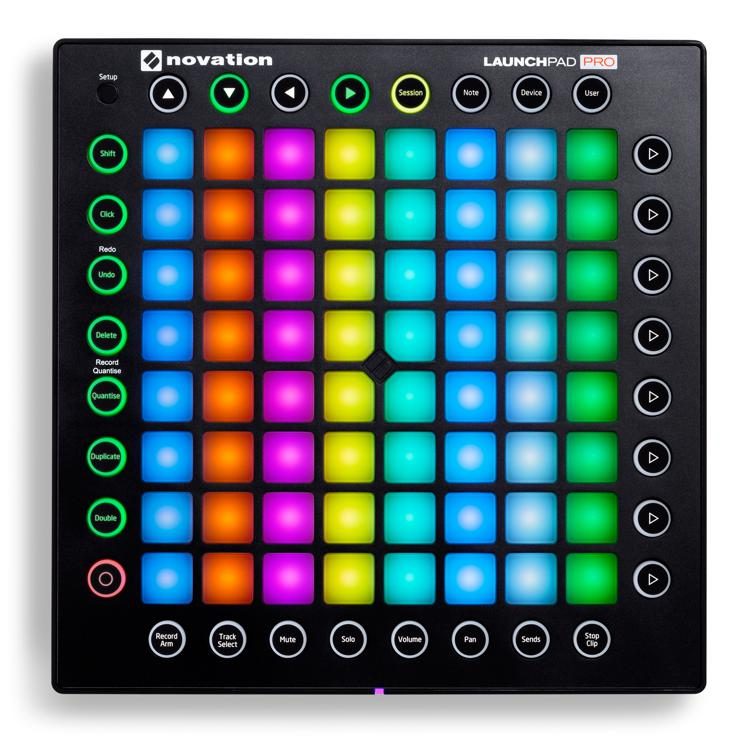 Photo from Sweetwater.
As shown above, a launchpad is a machine that is used commonly by various artists today who produce their own music. Often times when creating music, artists first start off with creating a beat, and later produce melody and harmonize with them. A launchpad normally has many different buttons, often squared like the one above and each button would produce a different sound. Unlike my project, when the button on the launchpad is pressed once, it would create only a short 2-3 seconds of a sound (either a beat, thump). By pressing the buttons repeatedly, the individual would create a beat.
Photo from Gadget Magazine.
I had researched and experimented a lot by using the GarageBand, and specifically layering tracks. These tracks were created by looping the sounds or a short beat that I would have found online. After creating the tracks, I would layer them on top of each other like shown above, and if they wouldn't match in the beat, I would have to alter the tracks myself and adjust the placement of the loop so that if played, they would all automatically fit together.
Photo from YouTube.
The online game that I had found around 3 years ago experimented with a lot of beats and layering tracks on top of each other by a simple animation. The Incredibox game itself shows how different tracks can be layered on top of each other, however, when playing it, you could see that the computer was automatically aligning the beats so that it wouldn't sound messed up. This game had 5 types of options to choose: Effects, Beats, Melodies, Chorus, and Voices. Out of these 5 categories, the user would be able to drag an icon and place it on the person, and along with a change in their costume, they would have their own sound – at the end producing an acapella.
The process:
First, I had to find 6 different soundtracks from LooperMan. They are 5-6 seconds long with the sound repeating only 3 times. I specifically wanted to keep the soundtracks to 86 bpm (beats per minute). After choosing the 6 different types of tracks, I labeled them to be: Bass, Chorals, Tune, Beat, Strings and Drum. By layering them in GarageBand, I was able to play them together all at the same time and at the end successfully complete a full track with all 6 different sounds.
From there, I converted all the individual track to be exported from GarageBand, but they would be all in m4a files. Which I found later, didn't work with the Sound program downloaded in Processing. After, I  had to convert the 6 m4a files to 6 mp3 files. This allowed me to use the Minim from Processing which I learned was similar to how you work with Sounds.
With 6 mp3 files, I was using Arduino to Processing with Multiple Values in order for the pressed buttons to be the input, and the output to be the 6 different sounds from Processing. It was quite complicated working with so many different wires, which I had labeled them by tape so that they can be identified easily with the cords.
After laser cutting the box and assembling them, I had a rough project which looked like the photo down below.
Potential Improvements/Feedback:
After user testing, I had lots of feedback about the placement of the buttons and the way they were a bit fragile sometimes. I had decided to change the placement of the buttons and add the wood pieces on to the buttons to make the buttons have more surface area to be pressed. After the feedback, the box looked like the one below.
However, if I had more time otherwise, I would have added more types of sounds instead of having only 6 different buttons to be pressed. This would lead to more variety of music created and more creativity for the user to explore.
Additionally, there was also a feedback which was to add a recording function to the project so that the sound that is produced can be recorded and played back so that it can be of a possession. I think that would be great since the user will be able to create their own type of music and make it their own by having the beat sent to their email or have it for their own possession.
Meaning of Project/Conclusion:
This project definitely has its meaning of educating and using this project as a form of creating something new. By the user's creativity, they are allowed to play with how the different sounds interact with one another, and how they fit or how they do not fit. This project is also used to create something brand new and show a certain user's creativity. Without any background knowledge, the person is able to interact with the Mixr Pad and create their own type of music.
All in all, I definitely can say with confidence that this project taught me a lot. Starting from coding Arduino at first, then moving on to Processing, then connecting the two so that values can be transferred to one another. Also learning how to laser cut, 3-D print, this class was filled with so many dense information. I'm really proud of how this project turned out, how I was able to create a project by myself by simply assembling the resources I was provided with.