This documentation will illustrate my thought process throughout the development of my Interaction Lab final project. Before I begin, I believe it's important to first explain my original idea and why I ultimately discarded it, considering it was the basis of my project proposal essay (which seems to be a component of our final project grade).
                For our Interaction Lab final project, our project was required to utilize both the Arduino hardware and Processing software. This opened a lot of ideas that I wanted to explore. Since some focus was on the significance and importance of our project, I first explored concepts that would be environmentally proactive. I thought about how I'm always finding myself recycling a bunch of empty bottles at the end of each week. Even though I'm recycling them, I still think it's a waste when they could be reused. In addition, a lot of these bottles weren't originally water, some were sodas and other types of beverages. I thought it would be cool if there was a way to refill them with whatever type of beverage you want. This led to my idea of creating a model machine that you could insert empty plastic bottles into. Then, it would move the bottle into a visible compartment, and an interface via processing would prompt you to select a drink. After choosing what you want, the machine would then mock the process of filling up your bottle with a liquid. Since the availability of fluid compatible parts is rather limited and the combination of liquids, cardboard, my laptop, and Arduino hardware would probably not end well, it was clear that it would be best to not have it dispense anything that was actually wet. Instead, this process could be represented by filling the bottle with colored little plastic balls or paper scraps that would have to be released from a compartment hidden above with a servo motor or something. While there are machines where empty bottles are recycled in exchange for money, my project would instead refill the bottle to your preference. This idea would hopefully cause people to be more conservative about their plastic bottle waste, which according to studies is a massively high number.
                After proposing this concept with my professor, he explained that this idea alone wouldn't be a very strong example of interaction, and because of this I would need to add certain elements to make it more interactive. He also pointed out many significant flaws that I would encounter. I started to think that I should pursue a different idea. For one, I realized that this choice of a project isn't really something I feel I would excel at and be passionate about. I also didn't like the fact that I would most likely have to fill the bottles with some sort of material as opposed to a liquid. In addition, the actual fabrication of the model machine would most likely be challenging, and I expected there would be unpredicted obstacles and flaws that I would have to overcome during the process. Because of these reasons, the final product would only be a model, and not completely achieve its purpose. Furthermore, I wasn't certain that I would be able to fully accomplish the design that I had in mind. As a result of my uncertainty, I decided to completely scrap the idea and pursue a project that I believed would open doors for much more creativity and flexibility, all while remaining something I'm passionate about and interested in: video games.
                A major theme of the Interaction Lab course involves exploring the concept of interaction. Similar to our midterm, our final project needs to involve interaction. More specifically, our final project prompt states that "any interactive project is going to involve listening, thinking and communicating." Not only are video games naturally a form of interaction, but they can also be made to entirely meet these requirements.  In making a game for my final project, the direction of communication between the two programs would be Arduino to Processing. This was because Arduino hardware would only be used as the controller for the game, and these inputs would control the functions within the Processing interface. In the time we had during recitation to achieve tasks utilizing both Arduino hardware and Processing software, I noticed certain parts I had trouble understanding. Most of these difficulties were related to Arduino. I found it very challenging to establish efficient communication between the two programs when there were multiple inputs from Arduino hardware to account for. As a result, I decided that my game should require as little inputs as possible. Using minimal controls brought consequences though, one being how most of the user's focus would then be on the display. This emphasized the importance of creating a game that was visually sophisticated, consistent, and most of all, entertaining. Another consequence of using minimal controls ties back to the assignment itself. Our project must include a relatively unique way of interaction, meaning my plan for a very simple controller would need to be improved somehow.
                While the topic of video games was on my mind, I noticed my friend using a slide potentiometer that he planned to implement into his final project. I found the movement of it to be very smooth and accurate, making it a preferable candidate for the controller for my game.
               I realized that it similarly resembled a throttle control found in many modern-day vehicles, and my mind started to explore possible themes for my game that would be relevant. Not long after, I checked out a slide potentiometer from the IMA equipment room. When playing around with it, I found the use of a slide potentiometer as a throttle to feel very arcade-like, which was also the style for what I wanted my game to be (an arcade game). Nonetheless, there were many more things I needed to figure out before I began developing.
                Before planning out what game I would create, I realized it was important to first understand the possibilities and limitations within the Processing software. I began to research the games that other people created in Processing. I started with browsing through many of the 2D games uploaded by the community on Open Processing's website. Since I was trying to figure out what elements were possible to include in my game, I was specifically looking for the most developed and complicated games. In my search, I analyzed and played around with a wide variety of both unimpressive and noteworthy games. One of these was a game titled "Timberman" by Santiago Fiorino, which provides a strong example of how this research helped. While I found the game to be poorly made and very undeveloped, it utilized different animations for the character. In return, I learned that this element is possible to include, and my game could utilize different character animations as well.
                It's important to note that at this point during my research, the theme I had in mind for my game steered in the direction of something similar to the well-known mobile game called "Flappy Bird".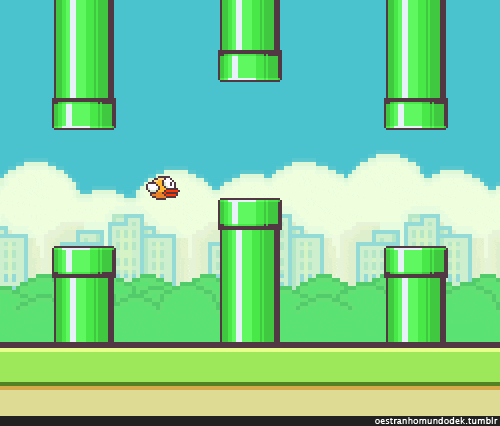 While this game is notorious for being super simplistic, there are elements that make the game entertaining and challenging that I wanted to include in my own game. For example, the notion of dodging obstacles by controlling the y-axis of a character is perfectly suitable for the sliding potentiometer I hoped to use. Also, this challenge of dodging obstacles can be very entertaining, especially if there is enough variety in their occurrence and a progression of difficulty. Anyways, back to researching…
                After testing and viewing the source code for the many games that I found online, it was obvious that I needed to massively develop my understanding and ability to code in the Processing software. By typing something along the lines of "how to make a game in processing" into google, I discovered two websites that would prove to be massively helpful resources. The first one was a post titled "Let's make a Mario game" which provided an in-depth tutorial on how to make a simple Mario-styled game in Processing. Unfortunately, the game was made using Java Script in Processing.js, making the code explained somewhat useless since I would be coding in a different language. Regardless, this tutorial provided an excellent reference for figuring out the elements I want to include in my game beforehand. For example, the beginning of this tutorial discussed the type of background for the game. Since the author was creating a Mario-styled game, he noted how the background should move according to the movement of the player. It made me think that if I do decide to create a Flappy Bird style game, I would want to use a background consisting of different layers that are on a loop to create an illusion of distance and movement.
               The second website this search brought was an article titled "Ultimate Guide to the Processing Language Part II: Building a Simple Game" by Oguz Gelal. This tutorial massively contributed to the production of my game and can be credited for many of the elements I was able to include. After all, the game that is developed throughout the tutorial is literally called "Flappy Pong"- which was basically a different take on the game Flappy Bird. After skimming through this post, my plan to create a Flappy Bird styled game was only encouraged and eventually became definite. There are only a few tutorials online for developing video games in Processing, and this one is perfectly suitable for what I planned on making.
                    After reading through the tutorial, I carefully analyzed the finalized Flappy Pong game. I thought it would be important to figure out what elements my current game concept shared with it. After figuring these similarities out, I would then be able to take out the corresponding sections of code from the tutorial. As a result, I could have the core elements for my game already established, allowing me to prioritize other elements I wanted to include and return to altering the copied code later- especially once I figured out the theme for my game.  
                 First, Flappy Pong utilized different game screens: an initial screen, the game screen, and a game over screen. The initial screen would serve as the introduction, displaying the title and other relevant information. After clicking to continue, the initial screen would shift to the game screen, where the game is played. When the user loses, the game screen shifts to the game over screen, where the score is shown as well as the option to retry. Since my game would be an arcade game, these different screens were perfect to include. The code made in the tutorial for this structure provided me with an organized and efficient way to implement the contents for each screen throughout the development process.
                Another element I wanted to reference this tutorial for was the randomly generated walls that would serve as the obstacles. The code made by the author included interchangeable variables for the attributes of the walls, making it easy to alter according to my desires. The code also included a method for determining collisions between the "ball" and the walls. This would be very useful since my game would involve consequences when the user failed to avoid the obstacles as well. Though ultimately needed to be edited anyways, the code for recognizing when something collides with the walls was extremely intricate and by including it early on, I saved a lot of time and confusion.
                After the different game screens and randomly generated walls were in place, it was time to start creating the character. I hooked up the slide potentiometer to an Arduino circuit and established the communication to Processing. Since Processing would be able to read the values given by the potentiometer, I could have the movement of the character controlled by it. Since I didn't know what my character was going to be yet, I used an ellipse in its place. The ellipse was fixed to a certain value on the x-axis, while its location on the y-axis was determined by the slide potentiometer.
                At this point, it became obvious that I needed to figure out what type of theme my game should have in order to make more progress. Lacking creativity in this department, I decided to browse EnvatoMarket and view the game sprites that could be used as my main character. This proved to be a great idea, as I was immediately overwhelmed by the number of options related to what I was searching for. After considering a variety of spaceships, planes, rockets and everything related, I decided to use a submarine as the main avatar. I chose this for a few reasons. First, the complicated generated walls that my game contained had to match with the theme. If I decided to go with the submarine, then the walls could be changed to rocks throughout a cave. Second, I had a lot of ideas for cosmetics that would work well if I was to go with an underwater-styled theme. Finally, I really enjoyed the animations that were included for the submarine. There were different images for levels of damage on the vessel, which I wanted to use for when the user collides with one of the obstacles. Once I made my decision, I purchased the rights to download and use this content, as well as a portfolio of similar-styled background layers from the same creator.  
              With the structure, core elements, controller input, and theme of the game established, I could finally start developing and altering further aspects of my game. Since this documentation is already ridiculously long, I'm going to skip most of the things I added during this period. I would like to include a few things which were very challenging and did not go the way I expected to though.
               A significant problem I encountered was related to the use of gifs in Processing. Since I had such cool little animations from purchasing the submarine game graphics, I really wanted to include them in some way. Using these animations was not as simple as it seemed, and after extensive research on forums and references, I realized that Processing no longer supports the use of .gif files. Furthermore, the downloadable library that solved this problem was no longer available, neither in the software itself or anywhere I came across online. I ultimately tried to overcome this problem by separating the images within the gif files and having them animate directly within Processing. I achieved this by having the images shift between one another based off intervals of milliseconds that passed. While the result was working, it had two major consequences. The first one I realized was that using this method caused the game to have lag, but I was able to slightly reduce this by increasing the intervals between shifts in the images. The second problem was much more severe- this method of animating the submarine massively complicated my desire to include the different levels of damage on the vessel. Since this is something that I thought was more important to include, I decided to exclude the animations with hopes to get back to it in the future.
             Another major setback I encountered was during the later-stages of my game development. The code I used from the tutorial that generated the walls had them appear as black rectangles with rounded edges. When I chose to use an underwater-styled theme for my game, I intended to replace these rectangles with rocks, which would also be totally different shapes than rectangles. This problem I encountered was massively due to over estimating my ability to understand and alter the code for these walls when I would need to. Since I was finally at the point where it was appropriate to make this adjustment, I confidently scrolled down to the copied code from the tutorial. After hours of re-reading this section in the tutorial, countless forum posts, references on Processing's website, and YouTube videos, I still couldn't understand what was going on within the code. During this period, I made many attempts at making the changes I intended, but each one failed. Ultimately, I realized that changing the code from making randomly generated walls to randomly generated rocks was not possible with my current understanding of the language as well as the time restraints to complete this project. Regardless, my game massively depended on this element and it was too late to turn back. Since my previous intentions weren't realistic, I decided my best option was to change the texture of the walls themselves. Even though they would still appear as out-of-place rectangles, I thought at least they could have the appearance of rocks. I somehow still had confidence in my ability to do this, since I thought it would be as simple as using the texture function on the already made walls. I was once again totally wrong, and I spent more hours trying to determine the vertex points of randomly generated moving rectangles. Eventually, I decided to just change the code from spawning randomly sized rectangles to randomly sized images of a cartoon-styled rock that I found would most closely fit into the theme.
            Although it worked, I wasn't pleased with the result as it looked anything but natural within the game. Regardless, I was running out of time to complete my project, and I would have to leave this element how it was as there were countless more things I needed to accomplish.
                A few days later and after much trial and tribulation, I finally had a complete version of my game that resembled what I originally had in mind. I chose to name the game "Submarine Explorer" as a placeholder for when I thought of a more creative name. It was now time to focus on the controller for my game, which at this point was just a slide potentiometer. I was still determined to utilize only this single piece, as I had confidence in my ability to transform this minimal input into a unique, entertaining, and relative method of interacting with the game. I was also still fixed on the idea of using the slide potentiometer to mimic a throttle control for changing the depth of the submarine, so it was important to clearly convey this to the user. Because I intended for my project to resemble an arcade-styled game, I began to draw concepts that used a board-like interface that contained both the controls for the game, as well as the information on how to play.
                I really liked how this looked and thought that as long as I did a good job with the actual designs on it, the controller should have no problem achieving my intentions stated before. I found a strong and in-tact piece of cardboard to use as the base. I then carefully made cuts to make ideal dimensions for the board, as well as a space that perfectly would fit the slide potentiometer. Since the overlay that contained all the text and illustrations needed to be sophisticated, I couldn't just draw directly onto the cardboard. It was clear to me that this overlay would be best if made with the use of software and then printed out and glued to the cardboard. However, the cardboard was already cut, which meant that the overlay I would print out had to perfectly align with it. I downloaded Adobe Illustrator since the professor suggested that it would be easiest to achieve this in. I carefully copied the dimensions of the cardboard and then created the size of the canvas in Illustrator accordingly.
               After printing the colored overlay out and gluing it to the cardboard, I was very happy with the result. I placed the sliding potentiometer into the designated space and secured it with a piece of tape on the back. In order to fully accomplish my design, I needed to attach some sort of piece to the slide potentiometer that resembled a handle. Luckily, I found the perfect piece while scavenging through the storage room. After using hot glue to secure it to the potentiometer, my controller was complete.
After completion, I realized that I forgot to change the name of the game to something more creative. Also, this photo was taken after our final was presented, and the "handle" I attached fell off when transporting the board
 Below is a demonstration of playing the finalized game with the control board being used.