How intelligent can robots be?
Solve this maze: Link
Win this game: Link
What is Artificial Intelligence (A.I.) ? What is the Turing Test? Go vs Chess? Link
Who was Kasparov?
What is Watson and why should you care?  Explanation – Tech Details
Neurons in software
With no middle layers, OR, AND, NAND, NOR are easy to implement.
With a middle layer, a XOR can be represented.
Example: Arduino as a neuronal network
Artificial neural network with XOR
Robot Operative System
The ROS is a general purpose system that helps the most advanced robots work:
Industrial robotics link
Service robotics link
A growing industry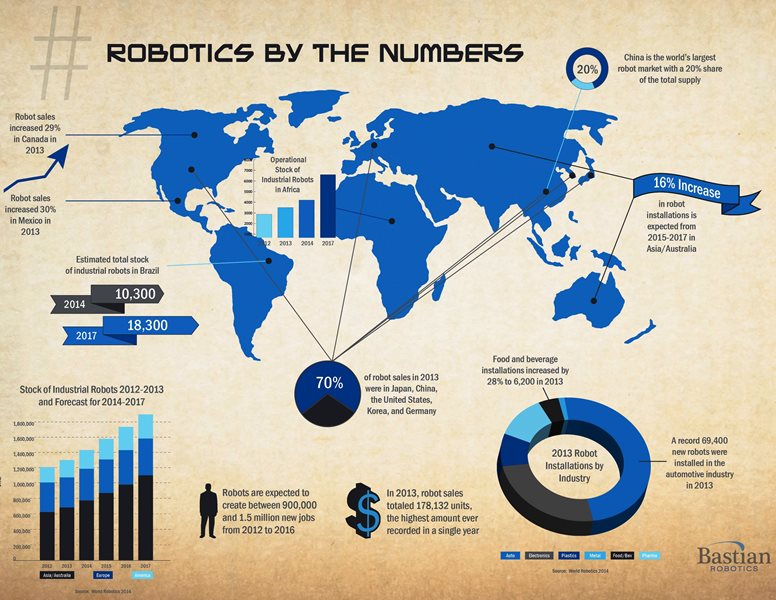 Investment in industrial robotics
RECENT NEWS: GO is not longer a human domain. ( NEWS LINK ) ( Google DeepMind )
Final Project Guidelines
Each student / team of two students will present their creation within 10 minutes
Block diagram with all the electronic components
Sketches of the physical appearance, not only to see how it looks like but the C.O.G.
Functional Diagram (either finite state machine, flowchart or pseudo-code)
Proof of concept: mechanics, electronics and software
Be ready to be asked: why is it a robot? why not a machine? is it alive? is it intelligent? does it help humanity? does it explore any frontier of current knowledge?
Three aspects will be evaluated: Concept ( the story behind ), Design ( sketches and iterations) and Functionality ( actual prototype and diagrams )